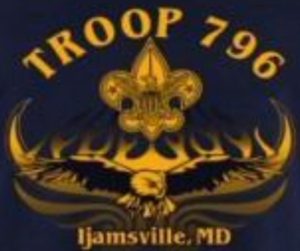 Boy Scout Troop 796 is sponsored by the parish and typically meets weekly on Thursdays at 7:00 PM in Polk Hall.  Troop 796 is scout-led with supervision from active adult leaders and helps youth develop academic skills, self-confidence, ethics, leadership, and citizenship skills that influence their adult lives, plus Scouts have a lot of fun hiking, camping, swimming, climbing, conservation projects, first aid, lifesaving, and safety programs.
There are typically monthly weekend camping activities, along with a weeklong summer camp at a variety of scenic locations.  The Troop is active in supporting community and Eagle service projects.  We welcome boys 11-17 years old.  Prior Scout experience is not required.
Visit our website at https://troop796.glitch.me/index.html.
Join us at one of our weekly meetings to learn more or contact us at troop796bsa@gmail.com.