High School Youth Group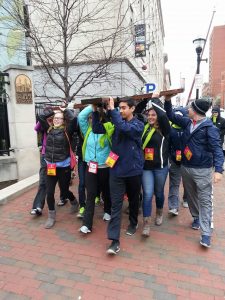 Greetings to our High School Freshmen, Sophomores, Juniors, and Seniors! Here at St. Ignatius, we have tons of programs just for you! From monthly social events and service opportunities, to Faith Formation Classes and our Peer Ministry Program, there are countless ways for you to be involved at our parish.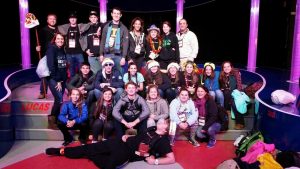 Check out the schedules below for our upcoming Socials and Missions of Mercy. These events are advertised a month in advance and are open to all high schoolers and their friends of all faiths (the more, the merrier). We hope to see you there!
For more information on our events, classes and becoming a Peer Minister, please contact Carol Smith at csmith@e-stignatius.org.
St. Ignatius of Loyola Teens at NCYC 2015
Calendar of Events and Permission Forms Below:
 We are heading to Hershey Park on Tuesday, June 19th.  We have two buses so bring friends.  Cost is $65 which includes transportation on a motor coach and admission to the park.  Get your flyer here ->  Hershey Park 2018 Flyer and permission
Who needs a water day?  Join us for Guppy Gulch on Monday, June 20th.   We have one motor coach that is looking for friends to enjoy the day climbing, jumping off and flying through the air looking for the big splash!  Cost is $50 for the day of fun.  Friends are always welcome!  Here is the flyer ->Guppy Gulch Flyer and Forms
Calling all Confirmed High School Students to think about joining the Peer Ministry Team.  We have a great time building friendships and there is always food.  Two upcoming events are the End of Year Social  on May 20th from 1 to 3 pm.  The next event is the Peer Minister Annual Campout at Bar T Morningside  on Tuesday, June 26th at 5 pm to 4 pm on Wednesday, June 27th.  Below are the flyers