Haiti Gala
A Night to Remember for Haiti's Tomorrow
Saturday, November 17, 2018, 6:30 PM
St. Ignatius Polk Hall
$30 per person, Open Bar to those 21 years old and over
For tickets, or to reserve a table for 8,
sign- up after Masses, or call Jeff (717) 404-5922
---
Cooking Up Faith
Wednesday, November 21st, 8:15 AM to 12:30 PM
6th to 12th Graders take over the parish kitchen
Students willing to help must complete a Permission Form and return to the
Faith Formation Office by Sunday, November 11th.
All adult volunteers must be Child-Safety trained.
Please contact the Faith Formation office with questions:
Fran Werden: 301-695-8845, x201; or fwerden@e-stignatius.org
---
Journey to Bethlehem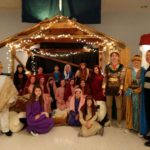 A Hands-on Holy Land Experience
Saturday, December 1st & Sunday, December 2nd
 After all Masses in Polk Hall
Journey with the three kings to visit baby Jesus;
See live animals in the stable;
Stroll through the streets of Bethlehem;
Pay taxes to the Emperor;
Play the games Jesus played;
Shop in the Marketplace;
Taste the foods of Bethlehem.
---
Monthly Family Mass 
The next Family Mass will be on
Sunday, December 2nd at 10:00 AM
Please join us the 1st Sunday of every month at 10AM for a
family friendly Mass. 
We will have children greeting you as you come in the door,
children lectors and a child friendly homily. 
It will also be a chance to hear our wonderful
Young Catholics Choir.
Deaf interpretation will be available.
For more information on how to have your child participate,
please contact Carol Smith: csmith@e-stignatius.org.
---
St. Ignatius Cash Bingo
Friday, December 7th
Doors open at 5:00, Early Bird Games at 6:30 PM,
Regular Games at 7:00 PM
Variety of Pull Tabs
          $25 Buy-In Includes: 
        Admission plus
16 Game Pack of Regular Games (9 cards each)

5 Game Pack of Special Games (3 cards each)
       Extra cards for all games available
Regular game prize payout based on attendance
Food Service will be available!
Benefits the Building Fund, for more information,
please call (301) 695-8845
---
---
Haiti Committee  – Sponsor a child for lunch in Bac D'Aquin, Haiti.  We have 78 children sponsored and needing a total of 125 children sponsored.  Will you help for only $8 a month?  Please reach out to Ric Helfrich for details {email}ric@helfrich.org{email}
---
Healing Prayer Ministry – Weekly, the Healing Prayer Ministry is available to offer prayers and aid on Monday Evenings.  Whether it is spiritual, physical or emotional, we all have times we need to ask the Lord to bring us to wholeness.  This ministry is trained and commissioned.    For more information or to schedule an appointment please call Carol Smith 301-695-8845 x 210 or {email}csmith@e-stignatius.org{email}