Vacation Bible School
Shipwrecked – Rescued by Jesus
July 16th through July 20, 9:00 AM to 12:00 PM
Registration is closed, we are filled up!
Contact the Faith Formation Offices
for additional information 301-695-8845 x 203
---
St. Ignatius Cash Bingo
Friday, August 3rd
Doors open at 5:00, Early Bird Games at 6:30 PM,
Regular Games at 7:00 PM
Variety of Pull Tabs
          $25 Buy-In Includes: 
        Admission plus
16 Game Pack of Regular Games (9 cards each)

5 Game Pack of Special Games (3 cards each)
       Extra cards for all games available
Regular game prize payout based on attendance
Food Service will be available!
Benefits the Building Fund, for more information,
please call (301) 695-8845
---
Save the Date!
St. Ignatius Parish Picnic
Sunday, August 26, 2018
1:30-5:00pm
 Urbana District Park
Join us for a day of fun, food and fellowship!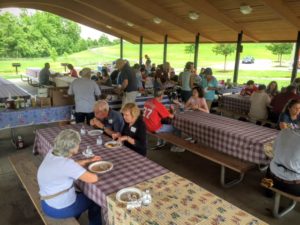 ---
Haiti Committee  – Sponsor a child for lunch in Bac D'Aquin, Haiti.  We have 78 children sponsored and needing a total of 125 children sponsored.  Will you help for only $8 a month?  Please reach out to Ric Helfrich for details {email}ric@helfrich.org{email}
---
Healing Prayer Ministry – Weekly, the Healing Prayer Ministry is available to offer prayers and aid on Monday Evenings.  Whether it is spiritual, physical or emotional, we all have times we need to ask the Lord to bring us to wholeness.  This ministry is trained and commissioned.    For more information or to schedule an appointment please call Carol Smith 301-695-8845 x 210 or {email}csmith@e-stignatius.org{email}