Peer Minister Events & Activities
Events and Upcoming Activities: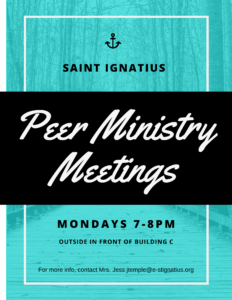 You are not here on your own, but by the Grace of God.
For Many years at St. Ignatius of Loyola the Peer Ministry has been the vital beating heart of the youth Confirmation Program.   The first Peer Minister team was formed in the fall of 2008.  These faith-filled high school juniors and seniors were assigned with the task to help with the Confirmation classes and the retreat at the Trinitarian Seminary.   There were two young women and eight young men who brought their own gifts and talents to share with the parish youth.  These young people came as credible, authentic and genuine teens who loved Christ, St. Ignatius and the friendship they found being together.  They each found that they could be themselves, be accepted and not judged.
Since the beginning of Peer Ministry here at St. Ignatius of Loyola, we have been blessed with over 450 Peers who have ministered with young people.   Peer Ministers make up about 20% of the parish volunteer base through their work with catechesis, liturgy and service projects. The parish invests a great deal of resources, time and funds into the Peer Ministry program due to the blessings it brings the parish in many ways.
As a St. Ignatius of Loyola Peer Minister, you will be changed by the Holy Spirit.   Be open to the call and trust in Christ that He will take you places.  In those encounters of opening your heart, you will meet the face of Jesus.  The places Christ will take you this year will help you to see your life long purpose, to love and serve your Lord.   Your reward is that you will receive more joy than you give, and this joy is life giving.
This year, the young people entering our Confirmation program know about our Peer Ministers as the young church they can relate too.   These candidates are looking forward to meeting you, getting to know you, be accepted by you, and even wanting to be one of you.
Congratulations for to you for saying "Yes" to the Holy Spirit and being open to your participation in the rich tradition of the St. Ignatius of Loyola Peer Ministry Family.   As the truth of the Bible shares, Revelations 22:20-21 "The one who gives this testimony says, 'Yes, I am coming soon'.  Amen!  Come, Lord Jesus!  The grace of the Lord Jesus be with all!"