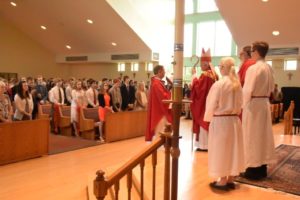 Welcome to the Sacrament of Confirmation page.   Our program this year is expected to have over 120 high school youth journeying together as they prepare for their day of final initiation into the Catholic Church.    The preparation towards the Sacrament of Confirmation is a fun, faith-filled opportunity to grow in Christ as we pray, serve and discern our individual calling as a disciple.
The program is designed that candidates experience a year of new opportunities and reflect their journey with Christ and how He is calling them to a deeper relationship and deeper purpose.    Candidates will participate in:  Weekly Mass, a retreat, monthly classes, ten hours of service, a pilgrimage and an final interview.    If you would like more information about our Confirmation program for youth, please contact Carol Smith at csmith@e-stignatius.org or by phone at 301-695-8845 x210.
To enroll in Confirmation, candidates should have completed 1 year of High School Faith Formation in a Catholic High School or in our Parish Faith Formation program.   All students must provide and updated Baptismal certificate.
To register your young person for the Sacrament please click here for the form -> 2019-2020 Sacramental Registration
Schedules and Forms for 2018-2019
Confirmation Year One Schedule
Confirmation Year Two Schedule
Confirmation Candidate Contract 2018
 Service and Justice Requirement
Confirmation Service Hour Record