Sister Parish of Immuculate Conception in Haiti
St. Ignatius has been connected to Immuclate Conception Parish since 2010.  Our support includes that of daily prayers and donations of medicine, clothes, and shoes.   We also financially support to the salaries for the school teachers, and two different school lunch programs that feed over 300 students a day.    Making a difference in a in carrying for the our brothers and sisters is what God has called each of us to do.
Below are the list of fundraising events, please join us.
We are always looking for new members to join us on the 4th Tuesday of each month at 7:30 pm at the parish. For more information contact Ric Helfrick at Ric@helfrich.org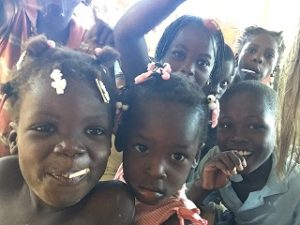 Our Mission
Foster a sense of Christian Community between St. Ignatius of Loyola and the Parish of the Immaculate Conception, Haiti
Pray for each other's spiritual and physical needs
Discover ways to share our time, talent, treasure, hope and faith with one another
Be advocates for the people of Haiti and support actions that will improve the quality of life for all Haitians
Encourage travel back and forth between the two parishes
Assist in Feeding and educating Immaculate Conception's school children
Donations made easy with our online options:
Haiti –  Immaculate Conception  Sister Parish in Villard
| | |
| --- | --- |
| Immaculate Conception in Villard, Haiti is our sister parish. Our parishioners help with  financial support to the parish, children's school lunch program, and teacher's salaries. Annually we support $44,000 for basic needs to our brothers and sisters in this rural parish. For more information about our mission, please contact the parish offices. Thank you for your donation. | |
Haiti – BLP Mission Lunch Program
| | |
| --- | --- |
| Your donation provides a hot meal a day for the children at the mission school in Bac D'aquin Haiti. There  are 125 students in the school. Your $8 dollars a month will adopt one student. | |